Teachers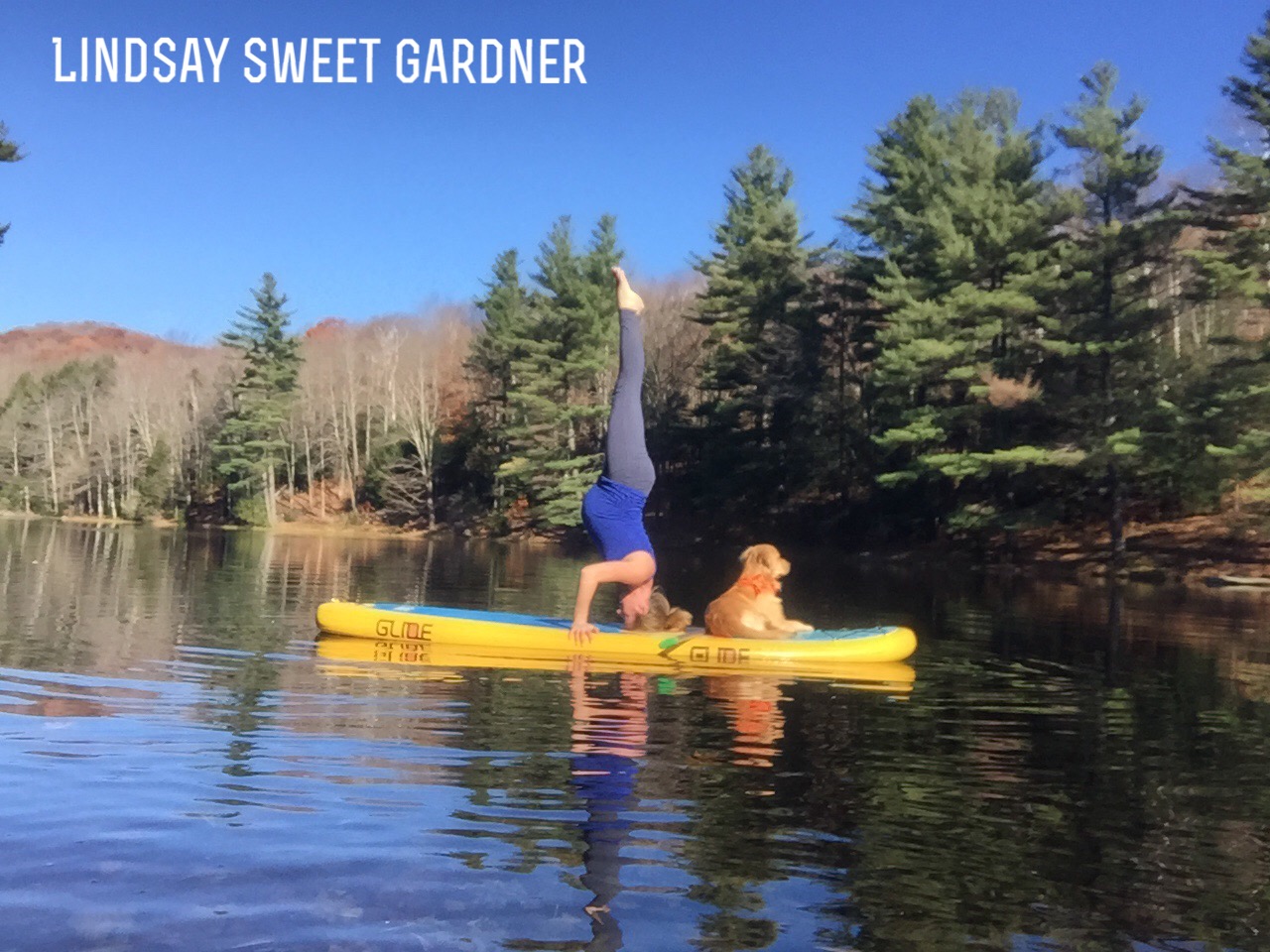 Lindsay is the owner and founder of Sweet Yoga. She is an E-RYT with over a 4000 hours of Yoga teaching experience and is a YACEP Yoga Alliance Continuing Education Provider. Most of what she does at Sweet Yoga would be considered body work. Whether you are attending a group class, a private session or a massage, she works to adjust and realign each persons individual body. All of her classes use the entire body and you can expect to do some Sun Salutations, standing poses, balance and strength work, seated postures, back bends and at least one inversion, giving you a well rounded practice that will leave you feeling renewed, rejuvenated, balanced and accomplished. In addition to being a Yoga Teacher she is also a UVM educated Nutritionist with a Bachelors of Science in Nutrition and Food Science, has been a certified Personal Trainer for 9+ years and has completed training in Thai Yoga Massage and Massage Bodywork.
Lindsay received her first Yoga Certification in 2003 in Hatha Yoga. She completed a 200 hour certification at Yoga Vermont in 2011. She has a B.S. from the University of Vermont in Nutrition with a strong focus in Human Biology and Anatomy and Physiology. She is known for reading peoples bodies, giving great massage like Yoga adjustments, and blends Thai massage techniques into her private yoga sessions that she also weaves into group Yoga classes. Her enthusiasm for what she does is contagious!
Lindsay worked at Curves (fitness for women) for 3 years, The Edge for 5 years, she has numerous certifications including Core Training Specialist, a Yoga for Golfers & Golf Conditioning Specialist. Her primary teachers have been Kathy McNames, Christine Hoar and Sofi Dillof. She has completed the Ashtanga Primary Series Adjustment Clinic with Nancy Gilgoff and has done continuing education workshops with Sean Corne, Jason Crandell and Dharma Mittra. If she's not in the studio she is probably either out teaching SUP Yoga on our beautiful Lake Champlain or doing something outdoors.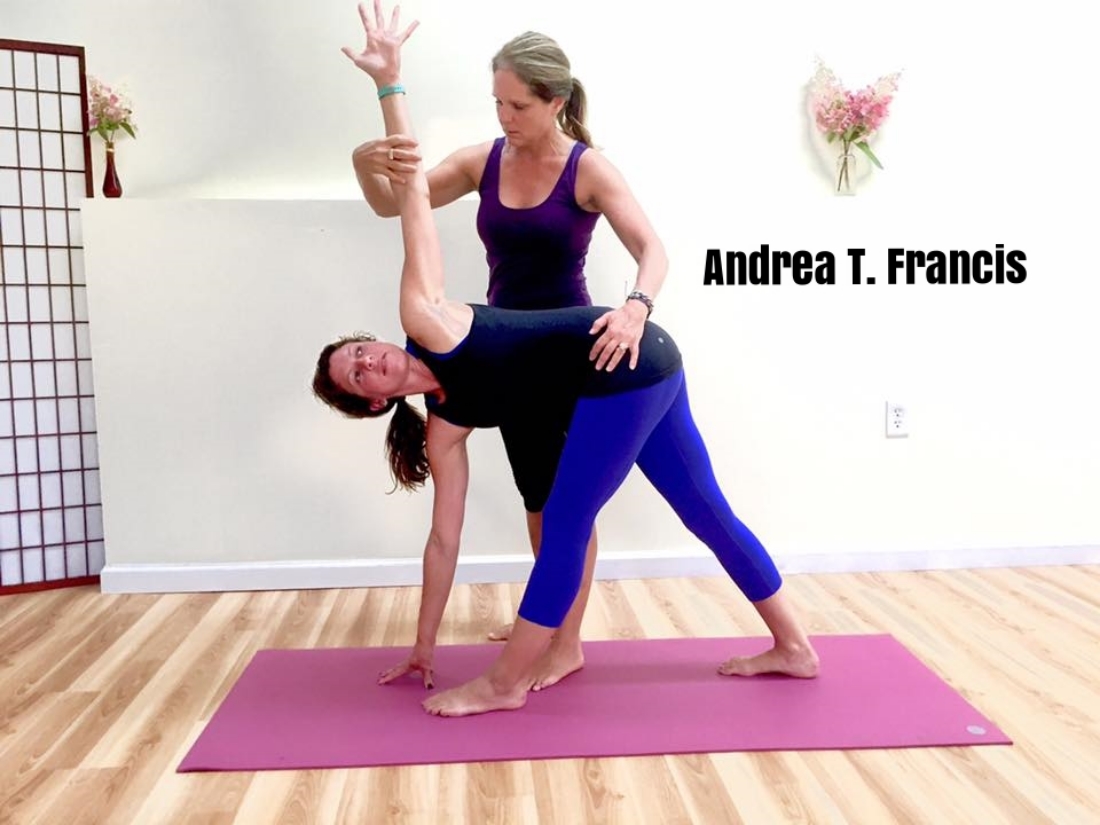 Andrea T. Francis is a registered yoga teacher (RYT 200), a certified running coach with Road Runners Club of America, certified First Degree Practitioner in the Usui Reiki System, an educated Nutritionist (BS in Dietetics, Nutrition and Food Sciences and Psychology from UVM), and is a new member to the Sweet Yoga family of teachers.

She first came to yoga over 10 years ago looking for a workout, for strength and flexibility, and hoping to relieve stress. Over the years, she has found more than physical wellness. She has come to value the relationship between the breath, the mind, and the body as their unity brings a sense of balance, mindfulness, and peace to life on and off the mat. Andrea felt compelled to share the gifts of yoga she embraced with her clients and completed the UVM Yoga Teacher Training under the direction of John McConnell and many accomplished instructors. Her teaching style is based in Vinyasa Flow. Andrea's knowledge of anatomy and alignment is evident in her classes as well as her compassion and respect for her students' wellness paths.
Emily Souliotis is a RYT 200 and is known for her Vigorous Vinyasa stlye classes. She's a kind heart, warm spirit who will make you feel welcome while also challenging you to push yourself in your practice.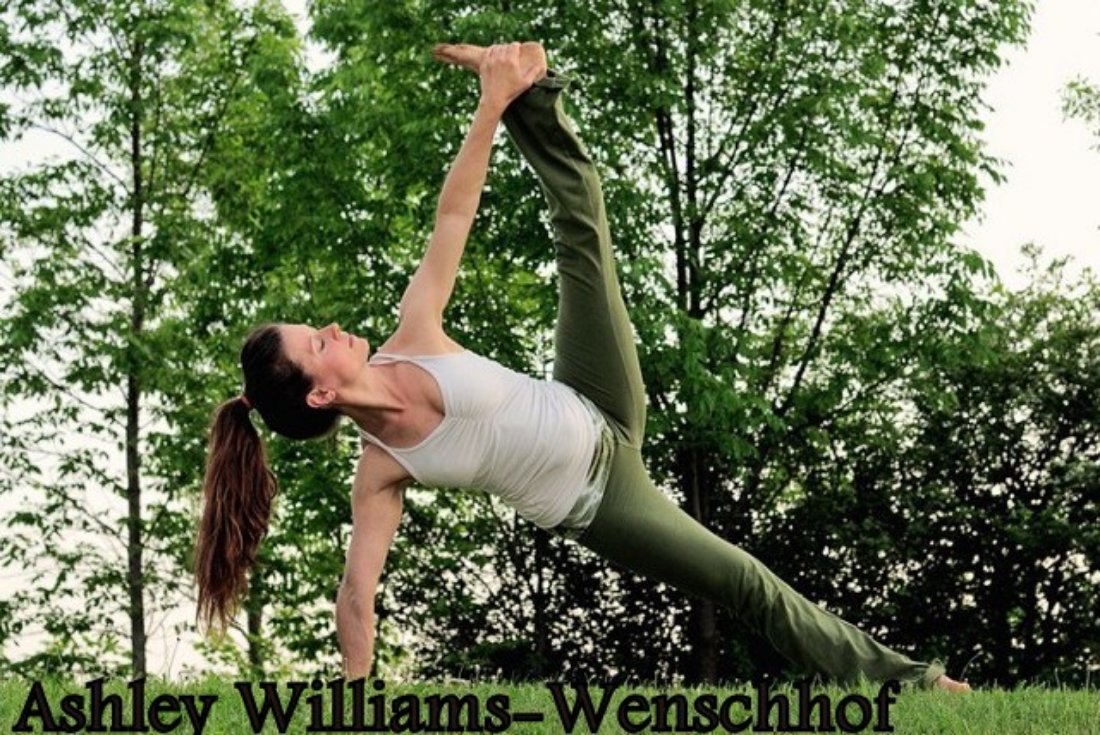 Ashley Williams-Wenschhof, a (CYT) yoga instructor through Yoga Alliance, earned her 200 hr. certification in Vinysasa Yoga under the tutelage of Baron Baptiste (via Breathe Yoga Studio). After eleven years on her own mat, Ashley decided to incorporate her yoga practice with her previous experience in teaching. She taught Vinyasa Flow classes for a studio in Upsate NY for three years before relocating to Hinesburg last November. Ashley has donated her time teaching yoga for 108 Sun Salutations, a bi-monthly fundraiser held by www.irocyoga.com, taught a variety of specialized workshops on inversions and, most recently, has founded and launched her own yoga retreat that is held yearly in Italy; www.yogaprofondo.com. Since her arrival in VT she has been teaching Italian and Spanish at the Lake Champlian Waldorf High School and deepening her own yoga practice after the recent birth of her son.
Morgan Gunderson
Morgan started practicing yoga in 2006 while attending Champlain College. After getting her 200-hour yoga teacher certification in the winter of 2008 at Kripalu, she began teaching at both Champlain and Evolution Yoga. She then had a great opportunity to teach an adaptive yoga class for clients at the Howard Center. Honored to take this job, it reiterated the fact that anyone and everyone can experience the benefits of yoga and it's mind and body connection.
It wasn't until her pregnancy in the winter of 2010 that she truly found an infinite and intimate connection with herself beyond what she thought was possible as a result of yoga. The experience of pregnancy was supplemented by attending a regular prenatal yoga class, which helped encourage a peaceful environment and community, calmness through her body and connecting with her growing baby. In 2013, Morgan sought out another yoga teacher training this time in Ontario, Canada which integrated the concepts of yoga with her passion of horses. Seeing these two worlds overlap with such a richness she came back to Vermont and very soon after started teaching yoga inspired riding lessons, sharing mindfulness tips and breathing techniques to riders of all ages.
Today as a mother of two boys, Morgan's a full time yoga teacher whose students include everyone from toddlers to pregnant mothers, to adults with developmental disabilities and college students. When she is not teaching, Morgan is most likely out in the woods hiking with her dog.